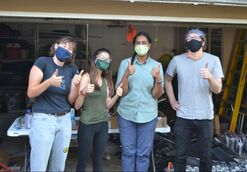 The Chaudhary lab provides individual-centered mentorship utilizing multi-mentor models that center mentee career goals in a collaborative, co-learning environment. Applicants who self-identify as individuals from groups historically excluded from ecology and/or persons excluded because of their ethnicity or race (PEERs) are particularly encouraged to apply. All lab members contribute to the cultivation of an equitable, inclusive, and antiracist lab group.
Chaudhary Lab graduate students and postdoctoral researchers are a part of the
Ecology, Evolution, Environment & Society (EEES) Program
, a highly interactive and vibrant interdisciplinary community of over 100 faculty, graduate students, and post-docs.
Dartmouth College
is a research-intensive Ivy League university located in Hanover, New Hampshire, 2.5 hours northwest of Boston and nestled between the picturesque Green and White Mountains.
PhD Students
We are looking for 1-2 PhD students to join the lab beginning Fall 2023!
Students will develop an independent research trajectory broadly related to these research topics: the mechanisms of fungal community assembly at local and landscape scales and/or trait-based fungal dispersal and movement ecology using methods such as data synthesis, continent-scale field experiments, traditional microscopy, biophysics, and high-throughput sequencing of eDNA. All accepted PhD students are guaranteed 5 years of funding including summer salary and health insurance. No GRE or application fee is required.
To apply, please submit your CV and answers to 5 questions about your experience and interests before November 13 here:
https://forms.gle/1uXxmr6PbARTzknT7
Selected applicants will be contacted for a Zoom interview ahead of the formal EEES application deadline on December 1 2022. Feel free to
email me
with any questions!
We recognize that the graduate application process can be opaque and difficult to navigate, presenting many barriers to prospective students. As part of efforts to increase the diversity and accessibility of graduate studies in ecology, evolutionary biology, environmental studies and earth systems, we encourage applicants to apply to the
Dartmouth EEES Scholars Program
, an in-person, fully funded 3-day workshop designed to demystify the graduate school application process. Applications are accepted in the spring for the fall workshop.
Postdoctoral Researchers
Prospective postdocs are encouraged to
email me
to discuss potential projects. I encourage postdocs to explore independent funding sources and am happy to discuss ideas for proposals. External sources include the
NSF PRFB
,
USDA-NIFA
,
Ford Fellowships
,
Smith Fellows
, and more. Dartmouth also funds postdoctoral fellows through the
Society of Fellows
, the
Provost's Fellowship (PROF) Program
, and the
Neukom Fellows for Computational Science
.
Undergraduate Students
Undergraduate students are the heart of the Chaudhary Lab! All research activities involve undergraduates and Dartmouth students interested in research opportunities are welcome to
email me
. Students are encouraged to reach out early, ideally as first or second year students, to gain the training necessary to conduct independent research/thesis projects. To help alleviate wealth disparities in STEM access, all undergraduate researchers in the lab are paid and federal work-study eligible students are encouraged to
reach out
. Many
campus programs financially support undergraduate research
and we are happy to help connect you!
High School Students
High School students located in the Upper Valley interested in lab or field research are welcome to
contact me
. I am unable to advise high school students located outside of the Upper Valley on remote research projects.