Interested? Spring 2015 lab group meetings are Thursdays at 4pm

I am always looking for motivated and dynamic undergraduate and graduate students to collaborate on all aspects of my research. If you are interested, please
email me
a brief statement on your research interests and a resume.
Current Students: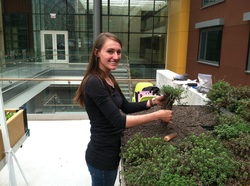 Susanna Lohmar
Susanna is working on a B.S. in Environmental Science at Loyola with a focus on sustainable agriculture. Her research will address whether green roofs planted with native prairie plants compared to non-native sedum species are better at heat insulation and storm water retention.

Check out Susanna's research blog

---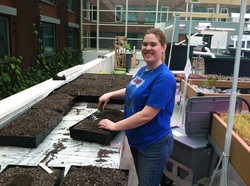 Sarah Ashcraft-Johnson
Sarah is working on a B.S. in Biology at Loyola with a focus on plant ecology. Her research will examine the ability of green roofs planted with native prairie plants and inoculated with mycorrhizal fungi to sequester carbon and build soil structure.

Check out Sarah's research blog

---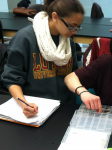 Aqsa Junagadhwala
Aqsa is a sophomore Environmental Science student at Loyola working on a concentration in Conservation and Restoration. Her passion is vertebrate conservation, but we try to forgive her for it. Aqsa was integral to the development of the new Environmental Science course ENVS 238 and assisted with the class in Spring 2015. She also aids in animal conservation research at the Lincoln Park Zoo.

---

Katie Pacholski
Katie is a senior Environmental Science student focusing on Conservation and Restoration. After taking soil ecology, she went on to study Advanced Soil Ecology topics as an independent study and has led efforts to improve education and communication of our long-term simulated greenhouse prairie. She assisted with the new ENVS 238 lab in Spring 2015 and is also an avid field entomologist.

---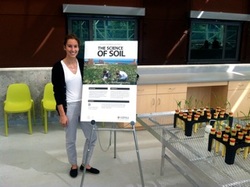 Emily Sandall
Emily completed her B.S. in Biology from Loyola in December 2013. Her research examines the relative abundance of viable propagules of arbuscular mycorrhizal fungi across a chronosequence of 10 green roofs in Chicago. Emily current works for the Frost Entomological Museum at Penn State University.
Check out Emily's research blog
---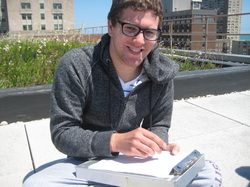 Sean Kelly
Sean is a Loyola student majoring in Finance with a minor in Environmental Action and Leadership. His research examines N and P concentrations in green roofs soils and nutrient fluctuations through time.

---